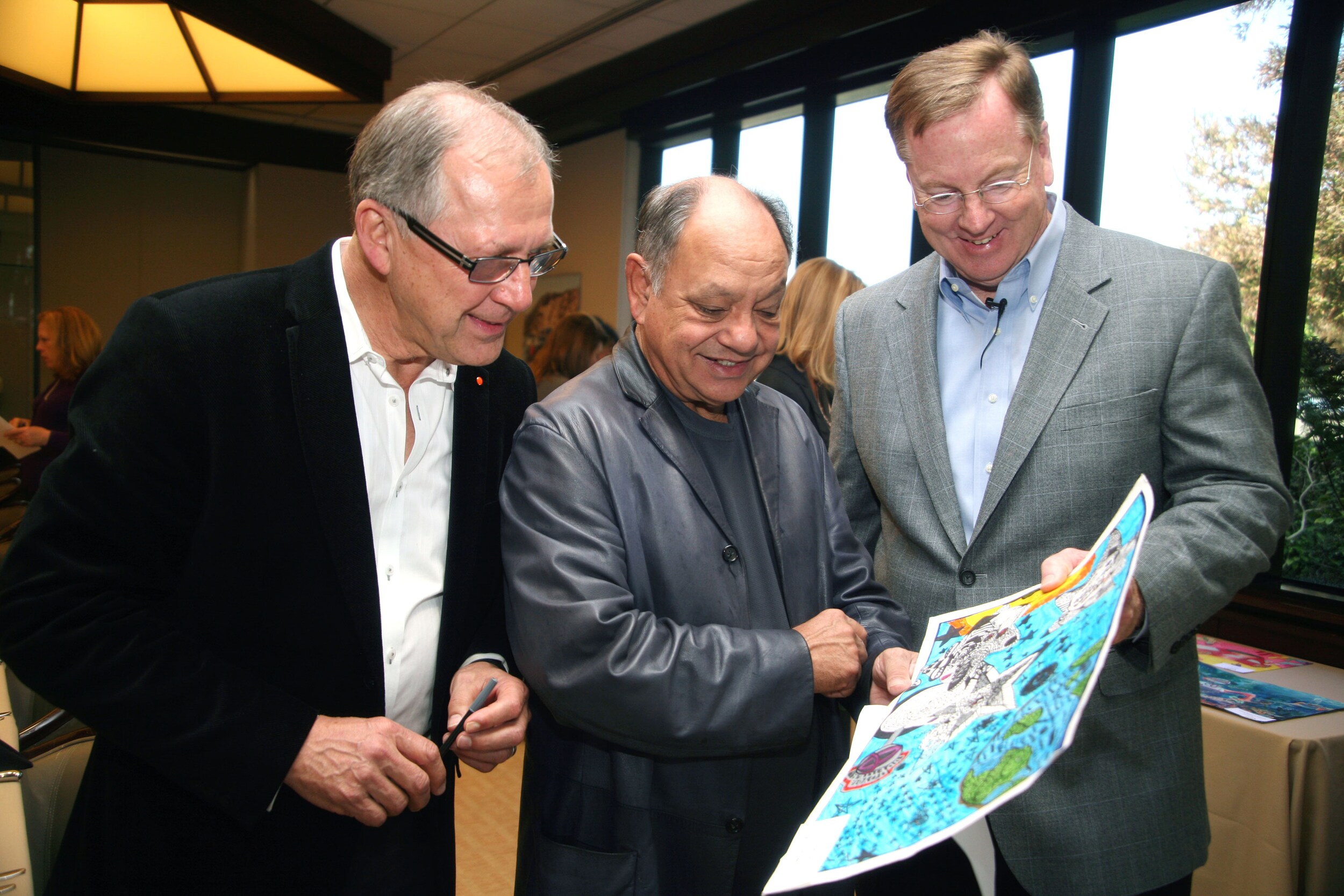 Toyota announces the 2015 U.S. Winners of the annual Toyota Dream Car Art Contest presented globally. The nine U.S. Winners will receive an iPad Mini and an award certificate. Their artwork now advances to represent the U.S. as the nation's World Contest Semi-Finalists to compete among entrants from over 80 countries. In August 2015, the top 30 young artists selected worldwide will win an all-expenses-paid trip to Toyota City, Japan, and participate in the World Contest awards ceremony, which includes a tour of a Toyota manufacturing plant.
The nine 2015 U.S. Winners were selected by a national panel of judges who reviewed artwork by 30 U.S. Finalists. These Finalists had been selected by nearly 1,500 Toyota associates nationwide from a pool of 90 U.S. Semi-Finalists.
VIEW ARTWORK ONLINE - contest details at www.TFSintheCommunity.com/DreamCar
Judges who participated in the national selection of the U.S. Winners at an event held at Toyota headquarters in Torrance, Calif., were:
Cheech Marin, Actor, Comedian, Director, and Art Collector
Stewart Reed, Chair of Transportation Design, Art Center College of Design
Mike Groff, President & CEO, Toyota Financial Services
Karen Ideno, VP of Product and Marketing, Toyota Financial Services
Toshiaki Kawai, EVP & Treasurer, Toyota Financial Services
Andrew Coetzee, Group Vice President - Product Planning, Toyota Motor Sales
Susan Sanborn, Curator & Director, Toyota USA Automobile Museum
Shelley Gagnet, Community Relations Director, John Elway's Crown Toyota Scion
"Judges were immediately impressed by the level of talent and creativity in each work of art," said Art Center College of Design Transportation Chair Stewart Reed. "But even more remarkable is the way young people have taken the concept of their dream car and turned it into an outlet for expressing their concerns over modern-day issues, and for suggesting imaginative ways to improve their world."
"These are genuine works of art," said actor and art collector Cheech Marin. "I can easily imagine these Dream Cars on the walls of a gallery or someone's home. To see such talent coming from our nation's children is truly an inspiration, and I look forward to seeing what these artists will create in the future."
The Toyota Dream Car Art Contest is an annual contest designed to inspire creativity in youth and imagine the future of mobility. From September 22 through December 13, 2014, youth, ages 4-15, across the U.S. were invited to create and submit a drawing of their idea of a "Dream Car."
Winners of the worldwide Toyota Dream Car Art Contest are chosen from three age categories (under 8 years old; 8-11 years old; and 12-15 years old), and judging is based on three criteria: execution of concept; uniqueness; and artistry.
"Toyota is proud to support our communities by providing our nation's youth with this outlet for their imagination and talent," said Mike Groff, President & CEO of Toyota Financial Services. "These young artists represent our future leaders and designers, who will help shape the automotive industry in the years to come. To see their self-expression through art is truly exciting."
NINE U.S. WINNERS - FY15 TOYOTA DREAM CAR ART CONTEST
CATEGORY 1 (Under 8 Years)
GOLD AWARD WINNER
Animal Rescue Moving Center
Jolina Chung, age 6
Temple City, CA
SILVER AWARD WINNER
Ultimate Toyota Medical Shuttle
Daniel Zhou, age 6
Ann Harbor, MI
BRONZE AWARD WINNER
"Egg"cellent Hen Car
Emily Hu, age 6
Ann Arbor, MI
CATEGORY 2 (8-11 Years)
GOLD AWARD WINNER
Handicap-Friendly Cleaning Car
Michael Zhou, age 11
Ann Harbor, MI
SILVER AWARD WINNER
Tsunami Control with Toyota
Andrew Dong, age 10
New York, NY
BRONZE AWARD WINNER
The Next Generation School Bus
Katherine Zhao, age 11
Troy, MI
CATEGORY 3 (12-15 Years)
GOLD AWARD WINNER
Cruising Through Your Dreams
Joanne Seung, age 15
Irvine, CA
SILVER AWARD WINNER
Toyota Sub Dreamliner
Thomas Kwon, age 13
Johns Creek, GA
BRONZE AWARD WINNER
Traveling Classroom Car
Hongying Jiang, age 15
Troy, MI
History: The Gold Award Winners from last year's World Contest were from Thailand, Malaysia, and Romania. The first international contest was held in 2004 by Toyota Motor Corporation in Japan, with the dual goals of inspiring children to understand the importance of having a dream while, at the same time, encouraging them to become interested in cars by designing "Dream Cars" of their imagination.
CUTLINE: Cheech Marin, Stewart Reed, and Mike Groff critique artwork submitted by youth from across the country for the Toyota Dream Car Art Contest, February 19, 2015, at Toyota's U.S. headquarters in Torrance, Calif. Nine U.S. winners were selected to compete in Japan as World Semi-Finalists against entrants from 80 other countries. Each 2014 World Contest Winner will win an all-expense paid trip to Japan in August 2015.
THIRTY U.S. FINALISTS (alphabetical order)
CATEGORY 1 (Under 8 Years): Annabelle Chan, age 7, Walnut, CA; Willie Chi, age 7, Duluth, GA; Jolina Chung, age 6, Temple City, CA; Vinaya Gunasekar, age 7, Troy, MI; Emily Hu, age 6, Ann Arbor, MI; Jinzan Hu, age 7, Rosemead, CA; Nina Huang, age 6, Corona, CA; Connor Kuo, age 5, Eastvale, CA; Kimberly Yu, age 6, Eastvale, CA; Daniel Zhou, age 6, Ann Harbor, MI
CATEGORY 2 (8-11 Years): Srishti Bagalkoti, age 11, Troy, MI; Andrew Dong, age 10, New York, NY; Shraddha Gatla, age 11, Troy, MI; Jessica Hu, age 10, Rosemead, CA; Cristy Lee, age 11, Los Angeles, CA; Codi Lin, age 8, Corona, CA; Erin Park, age 11, Duluth, GA; Joshua Sun, age 9, Flushing, NY; Katherine Zhao, age 11, Troy MI; Michael Zhou, age 11, Ann Harbor, MI
CATEGORY 3 (12-15 Years): Ashley Ayeri, age 13, Ashburn, VA; Ginnie Bang, age 15, Stevenson Ranch, CA; Jae Han, age 15, Great Neck, NY; Hongying Jiand, age 15, Troy, MI; Weilang Jin, age 14, Corona, CA; Brian Kim, age 12, Rochester Hills, MI; Nicole Kim, age 14, Beverly Hills, CA; Thomas Kwon, age 13, Johns Creek, GA; Vivian Nguyen, age 13, Duluth, GA; Joanne Seung, age 15, Irvine, CA